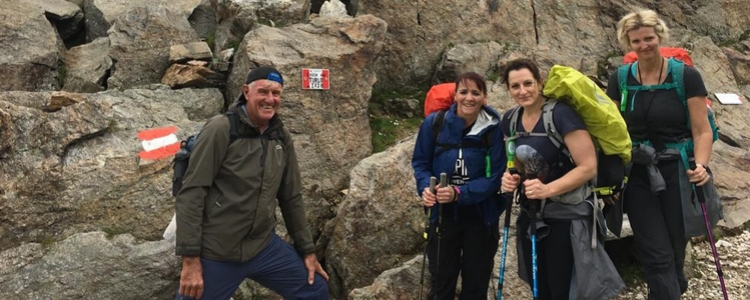 Author: Jackie Stapleton
---
I'm back! And I have to say thank goodness for that (and I'm being polite)!
Was it tough? Absolutely! There were times I just wanted to pack up and go home believe me. See this photo? Well they are all fake smiles – well, I suppose I can only speak for myself here can't I? This was Day 1 and we had just climbed 1.5km straight up to just under 3000m.
Were we prepared? Well, we thought so, as we had trained the same way we had for Kokoda, but it just wasn't enough. In hindsight we could have introduced more elevation training, however, we just didn't realise the enormity of the elevation and the impact it would have on us – 4000m in elevation and 163km on foot!
Just kilometre after kilometre of vertical incline and decline, unstable ground every day, exposed walking every day – exposed meaning that we were walking with a vertical drop right next to us – one wrong move and we were over the side. We endured all aspects of mother nature – sun, wind, rain, fog and snow, with no 2 days the same.
I have to say that my favourite day was a particularly exposed day where we climbed over rocks from landslides. I loved the thought of hanging onto rocks and clambering like a cat. I don't think I was a particularly elegant cat but maybe an old stray cat with a few injuries 😊
A great experience was staying in Mountain Huts along the way. These were huts that were only accessible by foot and were like a communal warm, safe place to stay for trekkers along the way. This would have to have been my favourite hut that we stayed in – look at it – just amazing!
The experience was made even better by having my 2 best friends there with me all the way. We supported each other on days where we cried and of course we laughed a lot too. We had awesome support from our new hiker friend, Don who always had our backs and our guide, Angelo was amazing! It really goes to show that teamwork makes the dream work and I really couldn't have done this without the support of everyone with me.
Surround yourself by people that make you better and challenge you to be the best you can be. This applies in all aspects of our lives. As our guide said, we were only as fast as our slowest hiker and we all worked and walked together as a team understanding our strengths and weaknesses and where we sat in our 'tribe'.
Safety was always considered first and the hike route adjusted to allow for changes in weather and accessibility.
Which reminds me, I noticed recently that there is an ISO Standard, ISO 21101:2014 Adventure tourism – Safety management systems – Requirements. There is also a supporting handbook which helps small and medium-sized adventure tourism operators develop and implement a safety management system. See – there's always an opportunity to refer back to an ISO standard no matter where you are or what you do!
Happy auditing!