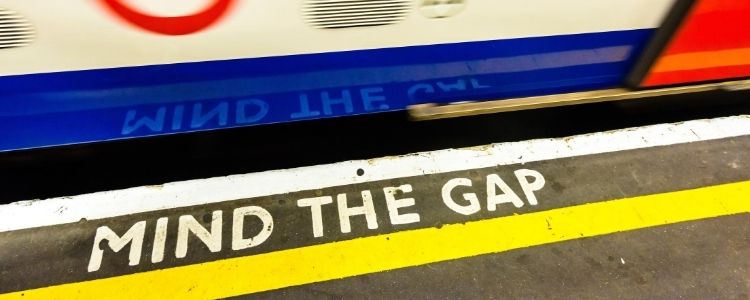 Note – this is an excerpt from the Auditor Training Online Facebook Live, view the video here.
---
What is the Gap?
I've come to realize over the last few months that there is a gap between completing a training course and then going out into the real world. This is regardless of whether the training was delivered in the classroom or online.
It's not just about "ok, I've completed my training' - Off you go - See you later - Bye - Yep - Done - I've got my certificate..." and then you find out that you are on your own.
I was reflecting on this during the week and realized that I do stay in contact with quite a few students that have come onto classroom training. Those that I've stayed in contact with;
They are the ones that are accelerating their learning and their knowledge!
They are the ones that by staying in contact and creating our own little community, have been able to pop in and out and ask questions as they need to.
They are the ones that are extending their knowledge, which obviously translates to experience!
Filling the Gap
As a training provider we have to adapt, so what can we do? Here at ATOL, we have a few things in place.
If you are a student with us, you will be on our private Community Facebook group where each week I share a topic, Standard or clause with you all. You can ask questions and I can provide my opinion on these.
Now, to add to this, over the next couple of months we're introducing a couple of new products:
In September we are introducing our Professional Coaching Membership. We're still refining a few of the details there, however, this is a subscription membership that you can add on to your training. You don't even have to have completed our training to join actually. Basically, you will be able to join the coaching membership and be a part of a weekly Q&A Zoom, as well as a Private Group to ask and share questions as often as you need to. You will not only have me there, but you will have acces to our other great members to help as well.
Now, this month we have launched a program that we call MSIP – which is our Management Systems Implementation Program. This program a bundled package of everything that we offer, plus a little bit more! Remembering that this is all about ensuring that our students get more from their training. MSIP has some great inclusions – you can look at the full product here.
MSIP Inclusions
To celebrate the launch of this fantastic program we are hosting a free webinar, which will go into a little more depth about what is offered in this program, the benefits of the program, an introductory offer and so much more!
Register now and save your spot as there are limited spots available!
But in a nutshell, MSIP includes:
This is our premium course. This is the training and qualification that has supported me throughout my career for the last 20-25 years.
Even if you are just putting in a quality management system – that's fine, you will pick up the quality aspect and as a bonus, you'll get the Environment and OH&S management systems units too.
Professional Coaching Membership
This is the new product I mentioned earlier. You will receive 12 months' access to this membership for the Weekly Q&A Zoom as well as access to the Private Facebook group.
These are an awesome resource and you would have seen me talking about them in previous Lives or videos.
You receive 12 months' access to these great get system toolkits for quality, environment, and OH&S.
As a bonus, you'll also receive access to the Information Security system toolkit which is for ISO 27001. These are full of great templates and guidance to use to build your system.
And finally;
Premium Membership
This is a unique and special inclusion for MSIP members. This means that when you sign up for this program, you will be able to email any specific documents or questions for review. Now, most questions can be fielded in our Q&A's and FB group so that all of the members benefit, however sometimes there might be documents you need someone to cast an eye over and provide feedback.
Because this is all about building your experience and building your system - we can do a quick review of it and provide some feedback.
The advantage to you all is that I'm a certification auditor, I know what auditors are looking for because I know what I'm looking for!
I'm going to help you to simplify what on earth those standards are talking about. The overly complex, too huge, too big, too scary systems are scary and so inflexible. Systems need to be lean and agile and you've got to have fun and you've got to love it. And that's what I want to share with you!
Solutions
These are our solutions to filling this huge gap and at the same time, we are creating this amazing community of auditors, implementers, consultants and most importantly continual learners.
If you have any questions about what we can provide, or if you've walked away from any training and thought that you really need a little more, please contact us to have a chat so that we can see what we can offer to help you to grow your experience and knowledge.
---
JACKIE STAPLETON
Jackie is a Founding Director of Auditor Training Online. She loves to help others and share her excitement about auditing, consulting and management systems bringing to you her own experience and stories as a certification auditor.