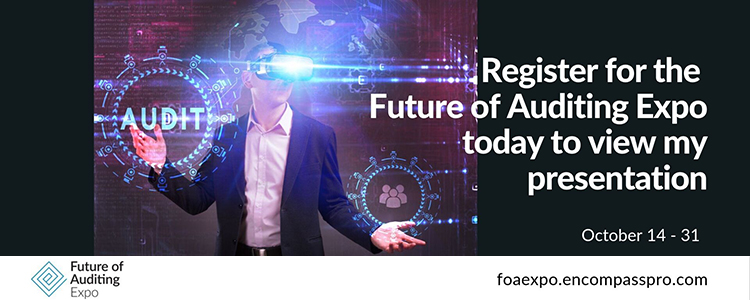 Author: Jackie Stapleton
---
Have you registered for the Exemplar Global Future of Auditing Expo?
This new online conference from Exemplar Global is designed to help auditors and industry professionals keep abreast of the current best practices and evolving trends in the auditing profession.
I am presenting a session on 'The Future of Auditor Training' at the Expo.
In this session, we will explore the emerging trends in eLearning technology and how these might apply to the world of auditor training.
The goal of this presentation is to understand where we are at now with traditional classroom training and then see what is needed to progress and improve using technology such as:
Interactive learning
Video learning
AI and learner assistance
Augmented and virtual reality (AR/VR)
Social learning
Microlearning
Gamification
Adaptive learning
The Expo runs from 14-31 October 2019, is 100% online and accessible 24/7 during the event period allowing you to attend the event from wherever you are in the world.
Register today and you'll pay just USD $99 to enjoy more than two weeks of access to all the presentations at the event.
It's a worthy investment in the future of your career.
To find out more and register for the event visit: https://foaexpo.encompasspro.com/