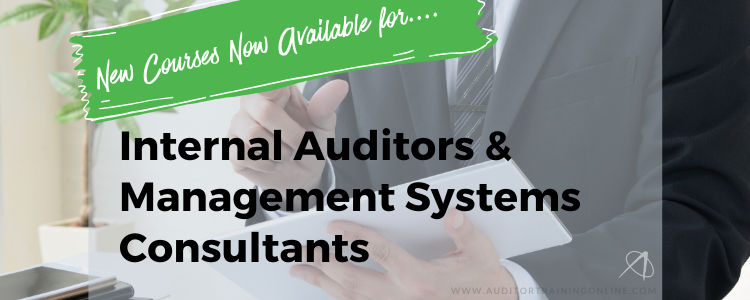 We are excited to announce that we are now offering new courses for Management Systems Consultants & Internal Auditors!
These courses are now available for online enrolment across the disciplines of OH&S, Quality, Environment, Integrated Management Systems & HACCP.
Internal Auditor Courses
Our new suite of internal auditing courses, or as we call them "Understanding" Management Systems, OH&S, Quality, Environment, IMS & HACCP courses, are ideal for anyone who works as an internal auditor and is required to conduct internal audits against any type of criteria, whether it be a management system such as Quality or OH&S or even the organizations own systems and procedures.
You can read more about these courses here.
Management Systems Consultants Courses
Our Implementation Specialist and HACCP Practitioner courses are suited to people that work in a consultant type role assisting organizations with their management systems and for anyone that works for an organization and is responsible for implementing a management system.
We also have the Lead Implementer & Lead Practitioner course options, which introduces the processes of conducting audits as an Implementer, Practitioner or Consultant.
For more information about theses courses and how they can enhance your professional recognition as an implementer and specialist in management systems click here.
So, whether you are an external or internal auditor, consultant or looking to enter the field of auditing, we have a range of training courses to suit.
If you are unsure which course is right for you please contact us to discuss your circumstances.